Caught your attention '

ei

? Well, you have to read the rest of my post to understand.
18 July to 22 July 2007 saw the staging of the 2

nd

Bingo Bonanza Philippine Open Badminton Tournament at the

Philsports

Arena (formerly Ultra). My husband was able to watch it since Day 1. But since I couldn't get off work to watch the games with him, I had to content myself with watching the weekend games. The semi-finals was scheduled last Saturday, while the finals was scheduled last Sunday. I will be posting more pictures during the event in my succeeding posts.
Badminton fanatic that I am, I was able to convince my hubby to wait for the champion of the Men's Doubles event (Koo

Kien

Keat

and Tan Boon

Heong

of Malaysia, now ranked #3 in the world) to emerge from the press conference room and have my picture taken with them. Here are the pics:
With Koo

Kien

Keat

of Malaysia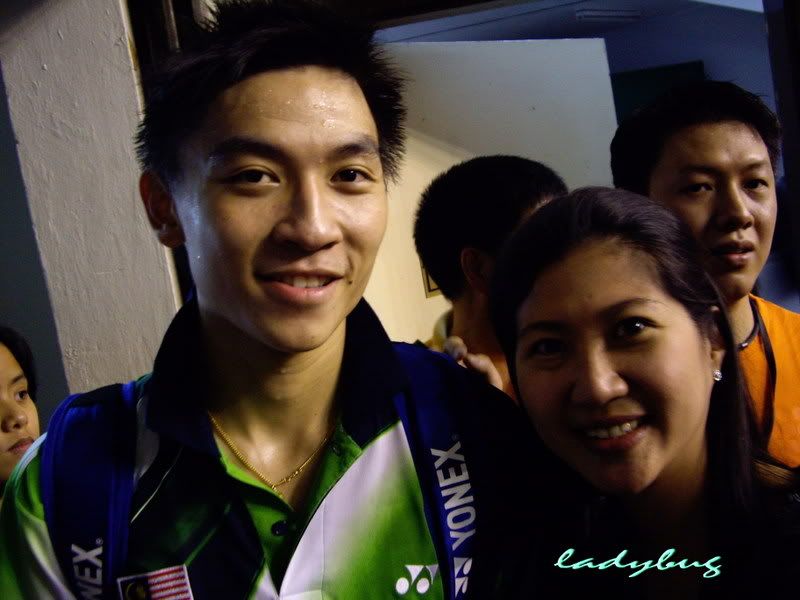 With Tan Boon Heong of Malaysia
While my husband was busy taking these pictures, he felt someone's hand brush up his butt but took no notice of it since he wanted to appease my desire to have my picture taken with these world-class players. Immediately after taking these photos, his hand went to his pocket to check if his wallet was still there, but lo and behold...it was already gone!!! Some evil conscience-less person picked his pocket despite the presence of several police officers in the vicinity !!! Gggrrrr...I hope whoever did this rots in hell!!!!
Fortunately, my hubby was not yet able to withdraw so there was only a minimal amount of cash in his wallet. But it wasn't the money we were worried about but all the hassle of having to replace his ID, driver's license, ATM cards and credit card. Aside from anger at the person who did this, I also felt guilty because my hubby wanted to go home immediately but I convinced him to stay so that I could have pictures for posterity. Sheesh! If only we'd gone home immediately after the games. (Ang pagsisisi talagang laging nasa huli.) I should have listened to my "gut feel" telling me not to wait for these players and go home already. But I didn't listen. Instead, I persisted with the original plan. A lot of "if-only"s and "what-if"s.
So, yeah, these pictures truly are unforgettable and my most expensive pics ever. Lesson well learned indeed.